Oceanside Inn, it is end of the year, and it is common to look back at the year, which is ending soon, and see how condo-hotels in Daytona Beach Shores fared in 2016 and how the market changed since a year before. So we are comparing 2015 and 2016.
There are 4 condo-hotels in Daytona Beach Shores, and we start with Oceanside Inn.
In the spreadsheet below you can see all condo-hotel units sold in Oceanside Inn in 2015 and 2016.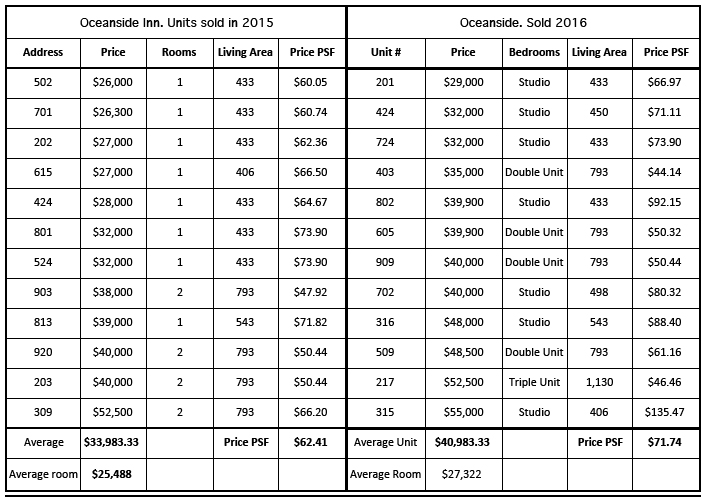 The average price per condo-hotel unit went up by 20.6%.
Average price per room has increased by 7.2%. It is a peculiar parameter. Some of the units sold were double units, and one was even a triple units. They are basically no different then other units, but for some reason the developer bundled two hotel rooms in one unit, they have a connecting door, but they are not 1-bedtoom or 2-bedroom units, and actually, they are rented mostly separately, and as such are separate entities in this regard, and the Rental Management company sends owners statements separately for each room. Hence the criteria of a room had to be used here.
Average price per sq. ft. (PSF) grew by 14.95%.
The interesting part is that if you look at the numbers and the increase is noticeable, you would tend to say that market is improving and it is. One would think that this is a good reason to have a glass of wine and celebrate.
I am not sure about it.
But without comparing Oceanside with other condo-hotels in the same small city of Daytona Beach Shores, we do not really know whether it is bad, good or great.
So how it is compared to other condo-hotels in the same small City?
Here is a Summary of sales in Daytona Beach Shores. When we compare Oceanside to other condo-hotels, then you might get more questions then answers.
Average price PSF in Oceanside Inn is less than half of the next condo-hotel and nearly 1/3 of Pirate's Cove.
We do not deal with big (representative) numbers here, so I do not pretend this to be science. But it is a darn good trend that you can clearly see. And while it is improving, it is doing it slowly, increasing the gap with other condo-hotels.
Physical condition is sure not a factor here, – Oceanside Inn is a relatively nice property.
However, it has the lowest value of four condo-hotels in Daytona Beach Shores (DBS). On average cost of sq. ft. basis shows that in 2016 units in Castaways sold for 52.2% more, in Hawaiian Inn for 60.5% more, and in Pirate's Cove for 63% more. So, even with the growing numbers Oceanside Inn is seriously underperforming in the market.
As I said, the number of sales is not a representative number simply because of the size of data. Is there any other way to look at the condo-hotel?
One absolutely a non real estate way to compare condo-hotels might be checking the review on Tripadvisor. After all, guests reviews are important. They are the ones who pay for their stay and affect the investment side of owning a condo-hotel unit in Oceanside Inn…
Out of 103 hotels (and condo-hotels) surveyed Oceanside Inn is now #78 on Tripadvisor.
Castaways Beach Resort is #71.
Hawaiian Inn is #50.
Pirate's Cove is #65.
So, yes, it is not a fluke, it is not the market, it is not Hurricane Matthew… So, what is it?
It is in big part the result of the policies of Board Members. The scary part for Buyers is that they do not see it. It is not something that you can figure out looking at physical condition of the property.
With condo-hotels what you do not see may kill you (your investment).